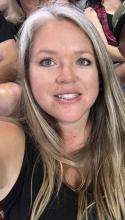 I'm so excited to be back at Options this year. I love sharing my passions with students!
This is my 15th year of teaching. In that time I've taught primarily upper elementary but have actually taught students in grades kindergarten through high school!
I live on a small hobby farm with my husband and two elementary-aged kiddos here in Northern Colorado. We've had pigs, chickens, ducks, and turkeys! We also just got a new puppy named Maple! I have apple, peach, plum, pear, and cherry trees--hopefully one day they will all produce fruit! We have a pretty successful garden going this year. My biggest pumpkin is already to my knee--I can't wait to see how big it gets!